You are a
passionate
and
motivated
musician who is ready to
unlock your music potential
in private lessons and get the kind of mentor you deserve. Press
start
to fill out our quick application and we'll contact you for your
FREE 45-minute consultation
.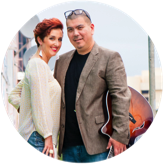 Who We Are
Based in Honolulu, Hawai'i, Curtis Kamiya Music offers our students the tools and mentorship needed to
unleash their creative musical genius
. From completely
owning your self-expression
to
increasing your confidence
and stage presence or
developing your stamina
and artistic discipline, we believe that
music can transform your life
and forms a foundational skill set that will be useful in all areas of your life and career. We
specialize in private music instruction for guitar, 'ukulele, and voice for beginners
or musicians returning to their craft (although all skill levels are welcome). Our
private sessions
are
uniquely created just for you
: a customized curriculum tailored to your interests, learning style, desired skill level, musical tastes, and articulated goals. With a wealth of knowledge drawn from ten years teaching music and over twenty years as a professional musician, try out our studio today and
grab your FREE 45-minute consultation
.
Apply Now
or
Book Your First Session
!